It is with great excitement that we introduce to you the new Lead Pastor at Grandview Nazarene Church, Pastor Cliff Purcell and his wife, Laura!
We also welcome their teenage son, Luke, who is a senior this year, and their Goldendoodle, Griz. They have two other adult children, daughter Faith, who is a senior at Northwest Nazarene University and son, Noah and his wife, Rachel, who live in Nashville.
Cliff and Laura have been married for 28 years and Cliff has been the Lead Pastor at Lewiston First Nazarene Church for the past nine years. Cliff has been overwhelming voted in as the new Lead Pastor of Grandview Church of the Nazarene and has accepted the call. Cliff is passionate about preaching, teaching and caring for people. He's passionate about prayer and his time with God and is looking creatively to the future.
We know God has great things planned for our future together. We are looking forward to their first Sunday with us on June 14, 2020!
Growing up as a pastor's kid Wes really can't remember a time he wasn't serving in a church in some capacity or another. He's grateful for the opportunity to serve God by serving others.

Previous to Wes' full-time ministry experience he worked faithfully in lay-leadership roles, preaching, teaching and serving youth, children's ministries and adult education. Wes' ministry started in Missouri 1997 as a youth/music pastor. From there he became a lead pastor in Houston, Texas, and then in Western Michigan before stepping back into support ministry here at Grandview Nazarene.

Wes met Casandra, the love of his life, while attending Bible College in Kansas City and they were married in 1989. Wes and Casandra are a nearly inseparable team. They often host classes, Life Groups, and sometimes work in the office together. While they work at building their own dynamic marriage, one of their goals is to aid and serve other families to build strong marriages and thriving families as well.

Wes and Cas are parents of four adult children, all of whom they are glad to report are living in the state of Washington. Three of their children are married and two who served our country in the US Marine Corps. By far, the grandest joy in their lives are their grandchildren. They have six presently with only one girl among them. To these amazing children Wes and Cas are known as "Chief and Fave."

Wes has a bold goal to see that 90% of the people who attend a weekend service will one day belong to a Life Group or small class or Bible study as a part of their GVNaz experience. Discipleship is a strong element of Wes' ministry While this growth most often occurs in the small class setting he has discovered and teaches others that the most effective discipleship is done in a coffee shop, living room, or a similar setting where one on one conversations allow life, mentorship, and ministry to intersect in ways that effect lasting growth.
Pastor Missional Connections
My name is Robert McGraw and I am the missional connections pastor for Grandview Nazarene. I have been a bi-vocational pastor for seven years and I have recently graduated from Nazarene Bible College with a degree in Pastoral ministries.

I am married to my wife Marlin and together we have three wonderful children. Aaron is 31 years old and he works and lives in Kennewick. Joey is 31 years old and he owns a business in Richland where he resides with his beautiful wife Conny and our granddaughter Devi. Our daughter Jamilah is seventeen years old and she loves to hang out with her friends and play piano. My partner in ministry is my wife Marlin. Together we have served in part time missions in many places around the world. We have served in the killing fields of Cambodia, the highlands of Peru, throughout Mexico, Thailand, The Philippines, as well as many other places throughout the world. When we are not working in our jobs we can be found teaching Wednesday night classes in the church cafe, spending time with friends and family, or hiking somewhere in the beautiful mountains of Washington State.

We are excited about our assignment at Grandview Nazarene and we love serving alongside our church family, both in the mission field, and here at home.
Pastor Travis, Christina, Addie, and Soren have accepted our invitation and will soon be on their way to GVNaz!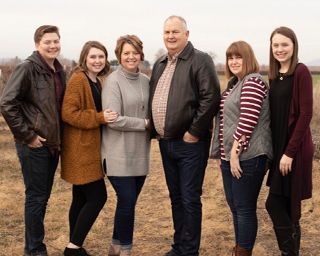 What fun to be back hanging out with the awesome kids of GVNaz! I am excited to currently be serving as Children's Ministry Director. It was a privilege to serve in this position full-time from 2007-2014.... stepping back into this role has been like riding a bike!

I am a life-long member of Grandview Nazarene and have a great love for the people of our church. I believe that the greatest joys of this job are: witnessing littles ones give their hearts to Jesus, hearing a child pray , listening to children worship, watching the kids' faces light up when they walk through the doors, doing life with the staff and volunteers, and having access to candy... lots of candy!

My most faithful volunteers are my family members. My husband, Jim, and I have four children: Emma (22), Anna (20), Jaki (17) and Ryan (15). We love experiencing Jesus with the people of this church!
Everyone who visits the church during the week is warmly welcomed by Lisa, She really has become the first face that so many people connected with Grandview Nazarene get the opportunity to see. She is incredibly organized and has the ability to juggle many tasks at once.
One of the most recognizable characteristics that Lisa displays is her compassion. She is generous and full of grace. Lisa has faithfully served since 2012.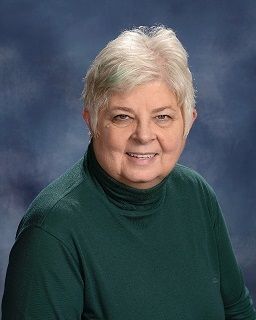 Pat has served in this capacity since the fall of 2013. She is a graduate of Northwest Nazarene University and a lifelong member of the Church of the Nazarene. She has worked in many capacities throughout her working career. Pat lives in Grandview.
Dylan has been in the maintenance business most of his life. He worked for 20+ years in the hotel/motel industry. Dylan has remarkable skills and is ready to tackle most any project. He has keen ability to see all sides of a situation and truly cares about presenting the best possible front for everyone who attends.

Jacob and Becky, his kids are the center of Dylan's world. He began is life as their uncle but he adopted both of them a number of years ago. Dylan is a gift to both of the kids and they it to him.

When asked what Dylan likes best about his job here at Grandview Naz he will say, "This doesn't seem like work at all to me. I call this 'fun'".
Preschool Director and Teacher
Tracey has been the Director and Teacher for our Kids First Preschool since 2014. Kids First offers preschool classes 5 days a week to prepare children for school and life! Tracey has a degree in Early Childhood Education and worked at schools in Bellevue, WA and Chelan, WA before landing here. She is married and has two children. Tracey's children are very involved in sports and they love taking road trips together.